Istanbul
The cooperation with our forwarding and logistic partner ARCLOG Lojistik Tasimacilik LTD STI. creates new perspectives!
Our exclusive Logistic Partner has long experience in the business field Europe - Turkey and vice versa. ARCLOG is directly connected to our data sytems in Europe and can follow up all actions online.
The direct connecting to our Turkish clients increased our service quality by another step.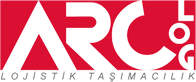 ARC Logistik Tasimacilik LTD. STI.
Merkez Mah. Piri Reis Cad. No.52 Kat 2
Cekmeköy-Istanbul

Ansprechpartner: Frau Selma Ates

Tel.: 0090-216 561 20 66
Fax: 0090-216 561 20 69
---